Norwegian church leaders give thanks for mutual support
For immediate release: 17 August 2011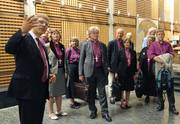 Fifteen leaders of dioceses and national church bodies in , among them all 12 bishops of the Church of Norway, joined in common prayer on Wednesday morning 17 August at the Ecumenical Centre chapel in Geneva, Switzerland. They were joined in this act of worship by members of the Norwegian congregation in Geneva and staff of many church-related agencies including the ACT Alliance, Conference of European Churches, Lutheran World Federation (LWF) and World Council of Churches (WCC).
Rev. Dr Olav Fykse Tveit, a pastor in the Church of Norway who currently serves as general secretary of the WCC, welcomed those who had come to "join us in honouring the victims" of last month's violence in Norway.
"We are still a people who are in sorrow, embracing one another, lighting candles in memory of those whom we have lost, praying for the survivors and their families," he said. He told the story of a young woman he knows who was shot five times at the Utøya Island youth camp on 22 July. "She knows that her friends saved her," Tveit reported, "and she is determined that this is not something that will destroy her life."
In her sermon, Presiding Bishop Helga Haugland Byfuglien of the Church of Norway said that "we still see faith, hope and love standing up against evil, hate and destruction", weeks after "the long Friday" on which "this unbelievable thing happened in so peaceful a corner of the world." She offered thanks to the world's churches and other faith communities "for being together with us at this moment."
After the service, several church leaders offered further testimony to the sense of unity that has sprung up. Berit Hagen Agøy, general secretary of the Church of Norway council on ecumenical and international relations, spoke of her appreciation for the support and insights of Muslims she has encountered.
"I am impressed by Muslim leaders in Norway," she told the congregation in Geneva. "Even though they experienced massive harassments and even threats immediately after the attacks – when many Norwegians assumed the terrorist or terrorists must be Muslim – they have clearly denied any connection between the terrorist, a self-proclaimed Christian, and Christianity."
She continued, "It is thought-provoking that Muslim leaders were among those who stated most clearly that the act of the terrorist is contradictory to Christianity."
"Together with the Islamic Council of Norway," she said, "the Church of Norway and the University of Oslo are planning two seminars this autumn about extremism and religion. Work together on this issue was actually planned before the terror attack on the 22nd of July. I must admit that when we first talked about these events, we were thinking of Islamic extremism. In July, we suddenly realized that we also have to confront nationalistic extremism in our own Christian culture."
Bishops Laila Riksaasen Dahl and Erling Pettersen reported on many of the ways that "the church was there" in the immediate aftermath of the horrible violence. They marvelled at "a new language" of reconciliation and unity that has grown up in their land, and they stressed the need for the church to dedicate itself to following up in support of victims, their families and the whole society.
The bishops' two-day visit to Geneva includes meetings with leadership and staff of such ecumenical organizations as the WCC, the LWF, ACT Alliance and the Ecumenical Institute at Bossey, Switzerland.